Bellingham Hypnotherapist Erika Flint Awarded The 2017 Visionary Award From The National Guild Of Hypnotists
Marlborough, MA, August 11, 2017 — Local Board Certified Hypnotist Erika Flint was awarded the Visionary Award for 2017 from the National Guild of Hypnotists (NGH) . The award was presented by Dr. Dwight Damon, President of the NGH. The award was presented during the National Guild of Hypnotist's (ngh.net) annual Convention held in Marlborough, Massachusetts August 11-13, 2017.
The recognition is awarded to an NGH Hypnotist for their leadership and guidance in the profession of hypnosis.
Visionary Award : Awarded to a member who exhibits a plan for the future of hypnotism, with wisdom and imagination.
"I'm honored to be awarded the NGH Visionary Award and love helping people with the power of hypnosis! " said Erika Flint, President and CEO of Cascade Hypnosis Center.
About Erika Flint
Erika Flint is a two-time best-selling author, a Board Certified Hypnotist with the National Guild of Hypnotists, an Accredited Certified Professional Hypnotherapy Instructor. She's the author of the Best-selling Amazon book : Reprogram Your Weight, and LIGHTER, and she also writes for the 5-PATH ® journal, the Journal of Hypnotism, and is a co-host on the popular hypnosis educational program Hypnosis, Etc.
In the Bellingham area, Erika Flint helps clients lose weight with hypnosis, even when everything else has failed. Clients come to her to finally lose weight and keep it off for life without the struggle. As an accredited hypnotherapy instructor, Erika teaches hypnosis certification courses quarterly, and helps her graduates achieve business and life success helping others with the power of hypnosis. .
To contact Erika Flint, call 360-325-4453 and/or email: erika@CascadeHypnosisCenter.com.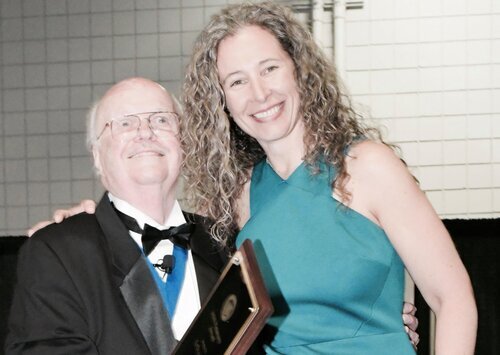 Erika Flint with Dr. Dwight Damon, the President of the NGH.