Professional Hypnotherapist & Expert Astrologist Annie Alexander on Living Hypnotically Episode 7
The extraordinarily talented Annie Alexander joins us for this episode of Living Hypnotically to share her background, insights as a professional hypnotist, a hypnosis technique, and how she combines astrology with hypnotherapy.
Summary:
Tell us a little about yourself.
Annie has spent most of her life in the mental health field. As a kid she wanted to become a neurosurgeon. She was an ambulance chaser for a bit before becoming a clinical psychologist. Some time ago she found hypnosis as a much more expedient way of helping people work through their biggest hurdles. Shortly after finding hypnosis, Annie also found astrology and has discovered it is a wonderful compliment to all of her other amazing skills.
Who do you like to help with hypnosis?
Annie likes to help everyone, but seems to have a lot of people that come to her for help with overthinking, anxiety, and trauma. She has found a lot of clients issues are rooted in childhood trauma.
Can you share a story with us about one of your clients?
In the last year Annie worked with a 40 year old man who had rarely slept for more than 3 hours for the last 20 years. He had a rough childhood and some troubling issues with his mom. Because his wife had worked with Annie previously, he had the confidence he needed that he could trust Annie to work through these issues. After just two sessions he was able to sleep 6-8 hours a night.
He really became a poster child for working through insomnia because we were able to work through his conscious mind gatekeeper.
What questions do you typically ask your clients on every session?
Annie describes a metric she likes to have her clients where she asks them about how they're feeling or how much progress they feel they've made on a scale from 1-10. She then tells them what score they gave her during their first session to help highlight how far they've come. It promotes accountability and a helpful scale for demonstrating their progress, or identifying what areas may need more work.
What have your clients taught you?
"The mind always knows more than it reveals. I'm always surprised by what people seem to know, but can't access unless we access it hypnotically, but can't access until we get into those deeper states."
What would you like to share with your potential clients about hypnosis?
There is no difference between in-person and virtual hypnosis sessions. You can leave your pajamas on, not worry about the commute, and it is easier for people that are dealing with travel or driving anxieties. Annie really wants to reassure people that virtual sessions are just as effective and powerful. She understands people may be a little Zoom fatigued, but because hypnosis is such a quick and effective therapy that the time investment is usually just a few hours over one month.
How do you incorporate astrology into your hypnosis?
"Astrology is like breathing for me, so it's part of the paradigm that my brain engages in, even when we're having this conversation, even as I'm driving from the store and back. It's just the way my brain thinks."
Annie offers accompanying astrology to her clients that are into it, but also completely understands when it's not someone's cup of tea. For those that are interested, she'll do a natal chart and does evolutionary astrology with them. It always coincides with what clients have come to her for, and strengthens the work they do together.
Annie can also do astrology for entrepreneurs and their business which she calls business navigation. She can use astrology from both the business and entrepreneur to find the overlaps and perhaps make suggestions of better timing for a release, or perhaps try and look at different perspectives for a certain area.
How do you incorporate hypnosis into your daily life?
Annie has had a lot of practice using recognitions or mantras in her self practice. She likes to set specific goals for herself every day, because she's very goal oriented, so she'll make a timeline for the day.
Annie also has a daily practice of yoga, mindfulness, and breathing that she practices before even opening her eyes in the morning. It's a form of self hypnosis.
It is important to Annie to use "I am…" statements as well. Not "I really want…" but "I AM." She uses these "I am" statements in a practice she calls Future Casting or hypnotists may know it as Age Progression.
Another thing Annie practices, is being aware of her triggers. We all have triggers, and they can easily pop us out of the present. Triggers can't always be controlled, but we can observe ourselves when we're triggered, and be able to take a little extra time and compassion when experiencing them.
Future Casting example hypnosis by Annie.
Follow along at 23:40 in the video above.
Anything else you'd like to share with listeners who may want to work with you?
"I'm here. I'm available. I'm as easy as a phone call or a text away. And very flexible in terms of how we can work together and when we can work together."
Annie asks Erika what was her vision for this podcast and what has she observed?
Erika shares that even though she's been a professional hypnotist for 10 years, she still finds most people don't really know what hypnosis is, and have only been exposed to stage hypnosis or hypnosis for entertainment. So Erika really wanted to help people know the power of hypnosis and work through any misperceptions.
It is important to show that there are hypnotists out there with all sorts of expertise and experience that may be the perfect fit for you. How is hypnosis used practically? How does a hypnotist practice hypnosis?
I also want to invite people to our training program because being a hypnotherapist is one of the most rewarding careers available.
"I do wanna say that the training that I undertook with you was probably the best that I could possibly get in the entire world." - Annie
Annie describes how having been a therapist most of her life, hypnosis is the best because it really gets to the root cause of issues, and doesn't require different scripts for every single possibility.
If you're interested in working with or reaching out to Annie Alexander, you can contact her at: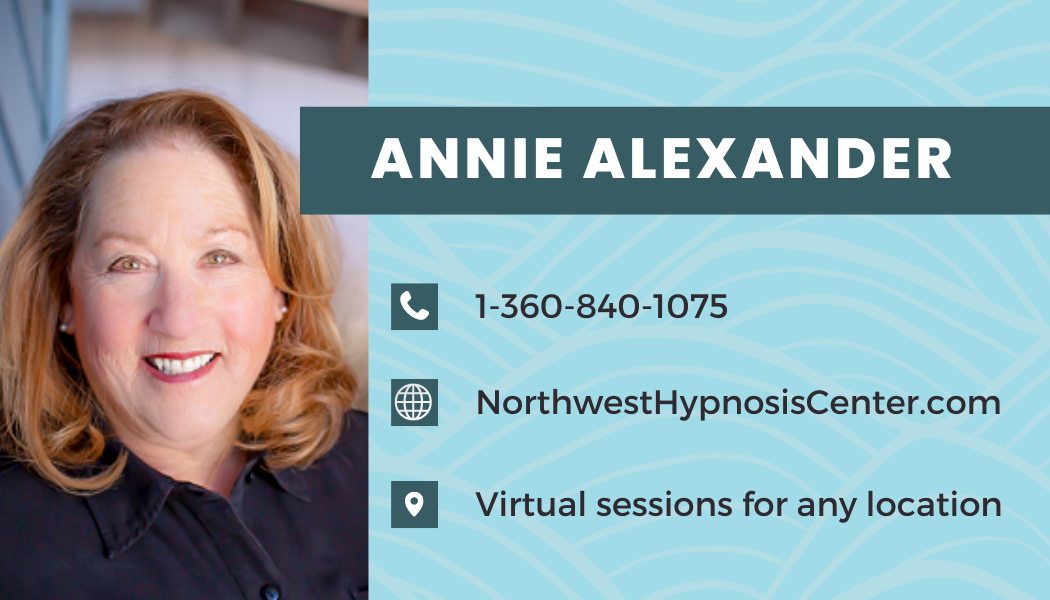 You can start a brand new career as a hypnotherapist and start seeing clients right away! If you've dreamed of helping people in a deeply impactful way, then visit www.CanYouBeAHypnotist.com for a free book and hypnosis lesson.